Welcome to the CCAR Industries website!  This website has been a "work in progress" over the past several months as we solicited feedback from program consumers, agency staff  and a group of Eastern Illinois University students.  As you browse our pages, you will notice that we have added a few new items from the input we received.  We hope that our site provides you with useful information in a format that is easily accessible on your mobile devices.   Please take a moment to browse our pages.  As always, please feel free to contact us if you have any suggestions!
NEW  LOGO DESIGN

Did you notice that the agency has a new logo?  Of course, we relied on input from program consumers and staff to develop our new design.  We would like to extend a special "thank you" to our consumer newsletter writers at the day programs who contributed their ideas and gave feedback throughout the past several months!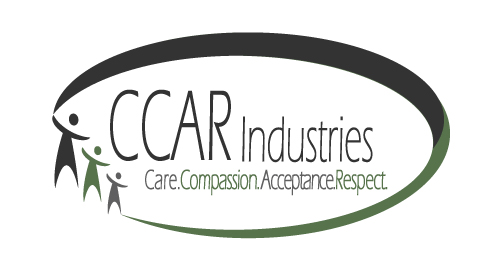 FEATURED ADDITIONS TO OUR SITE
CONTACT US PAGE:  To simplify the input process, we have added a suggestion form for staff and individuals who are associated with our programs.  Comments will go to our Executive Director, Lyla McGuire.   While Lyla enjoys reading about our positive work, she always welcomes suggestions for improvement!  Comments can be submitted with or without your contact information so that your identity can remain anonymous.
ABOUT US/ DONATE PAGE:  AmazonSmile is a great new way to donate to our agency.  Simply click on the "Get Started" button or select CCAR Industries as your charity when you make your next AmazonSmile purchase.  Amazon will donate 0.5% of your purchase to our agency.  Get started here.
OTHER INFORMATION/ E-PUBLICATIONS PAGE:  For several years, day program participants have written, edited, and designed a quarterly newsletter titled The Workshop Review.  The articles focus on program activities with a mix of opinion columns, photos, and artwork.   As writers helped shape the new website, they decided to create an "all-electronic" newsletter to replace the previous printed version.  Their hope is to reduce paper use and to post articles more frequently.  By the way, staff will occasionally post articles on this page too.  You may want to bookmark it!
SEND A COMPLIMENT

On a daily basis, our staff strive to go the extra mile to assist program consumers, families, and fellow staff members.   In addition, we serve individuals who are committed to doing their best regardless of the challenges faced.  Unfortunately, these individuals occasionally fail to get recognized.  Our Send-A-Compliment box will allow you to compliment a staff person or program consumer for his or her hard work and contribution to the agency.  If you submit a compliment, be prepared.  We will be sharing a few of them with our readers!   Send a compliment now.